A few weeks ago my wife and I went in search of something fun to do for a date.  We hadn't gone out the two of us in a while and really wanted something that was low-impact but still fun and interesting.  After some thought and effort we came up with making a trip to the Mad Platter.  The Mad Platter has pre-kiln pottery designs that you can choose from and then clay paints that you use to paint whatever you like on the basic shape.  It's pretty neat if you've never done anything like that.  When you're finished you can even put your new piece of art on display in your home for all your visitors to admire.
This wasn't our first foray into this type of task.  One of my nieces had a birthday party at a similar shop and my wife and I both took on miniature gnomes, just for kicks.  They turned out pretty well, but took about 5 hours to paint (yes, we had to make a second trip back to the shop to finish our paintings several hours after the birthday party was over).
This time though was different.  I had experience under my belt and knew that I was a much faster painter than my wife… and THAT'S why I chose a very simple skeleton plate.  It's a few weeks until Halloween so most of the options were along that theme.  My wife chose a "medium" level owl dish.  For sure at the start her dish was much more complex in design than my skeleton.  I mean, my plate was already white and had the indention for the eyes, nose, and mouth.  Honestly all I had to do was maybe put a little black and I was all set.  Here's what the plate looked like when I started.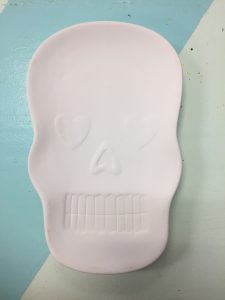 After giving it some careful thought, and remembering the experience on the gnomes and how wicked-quick of a painter I am, I decided to try for something a little more ornate.  "A Dia De La Muerte mask would be cool," I said to myself.
Well, our afternoon time limit quickly passed and I had just barely finished the outline of my plate.  My wife chuckled and we decided that 4 hours was enough and we'd come back another day to finish.  Would you believe after 4 hours this is as far as I got:  (Yes, this was all free-hand… no stencils involved)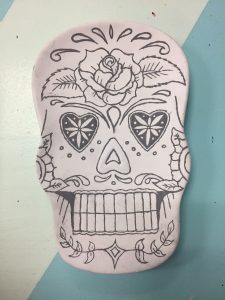 It took a couple of weeks, but we did make it back.  This time I was intent on finishing the masterpiece I had been creating.  It was crunch time and the game was on!
I toiled away for 6 more hours…
And the finished pre-kiln plate was born: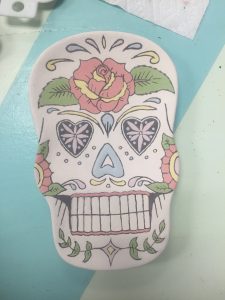 And after firing and glazing I think it turned out pretty well… at least for 10 painful hours of tedious work. 🙂
And a couple more shots just for good measure…