Welcome Back!  Excited you're still reading.  As you probably recall, yesterday I had my first real success with my new project Jeep Wrangler by replacing the Thermostat.  I still don't know if that fix really worked, but I'm going with that it must have solved my problem because I'm so good at this stuff.
Now on to the next piece of excitement.  Today I set out to start removing parts from the jeep that I either don't need or plan to repair/replace.  For the immediate future that means the rear bumperettes, front bumper, doors, and hard top.
I started with the top and doors and those came off with just a bit of tugging and some help from my lovely wife (she's stronger than she looks so be careful).  Then it was on to the rear bumperettes.  Each had 4 bolts and those came off no problem.  Didn't even take elbow grease to get them to break loose from the rust.
Next up, Front bumper.  Hmm.  This one was a little tricky.  both sides of the bumper were collapsed because the previous owner (or the one before him) had a little too much fun in this Jeep.  The bumper is tube steel and the driver's side was completely crushed back against the frame.  Even the leaf spring had been damaged and one of the leaves (or is it leafs) was pushed out beyond the front shackle.  I hammered the leaf back into place at least enough to get it out of the way and then went to working on the bumper itself.
The front bumper bolts on to the very front of the frame with four bolts.  The nuts for each bolt are welded to the inside of the steel box frame.  Each had a Torx T60 head on it.  Well, off to the store I went since all I have in the shop is the standard set of torx bits up through T40.  A half hour later and I was back.  Insert bit, turn wrench, poof.  Bolt #1 is free.  The second and third bolts were not as simple as the heads on both stripped out as soon as I turned the wrench.  That left bolt #4 which was a bit of a chore.  It was located under the crumpled section of bumper and I could not see the bolt because the bumper was so badly damaged and bent under.
Off to the store again.  This time I went for an electric grinder/cutting wheel.  Lowe's never disappoints when it comes to overpriced tools so I bought the mid-ranged grinder, an extra grinding disc, and a set of 4 cutting wheels and headed back home.
Wow, this is the first time I've ever used a grinder or cutting wheel… and within a few minutes I felt like an expert.  I made several cuts in the front bumper around bolt #4 to weaken it enough so that I could bend out the damaged bumper and see the bolt.  A few minutes later and to my amazement there was no bolt #4 to remove… wow!
Well, now back to bolts #2 and #3 that I had stripped the heads earlier.  My creativity sparked and within a few minutes I had dreamed up a solution to my problem.  There was no way to get a wrench on the round headed bolts and it did not seem promising to even attempt a screw removal tool.  What I came up with was to use my brand new cutting wheel and make cuts in the heads of both bolts so that my crescent wrench would fit and sure enough it worked.  In fact it worked GREAT.  I made the round heads into square heads and within about 10 minutes I had both bolts out and the front bumper off.
Successful Day 2.  That is, if you consider taking 11 bolts off the Jeep as successful.  I wonder what the next day will bring?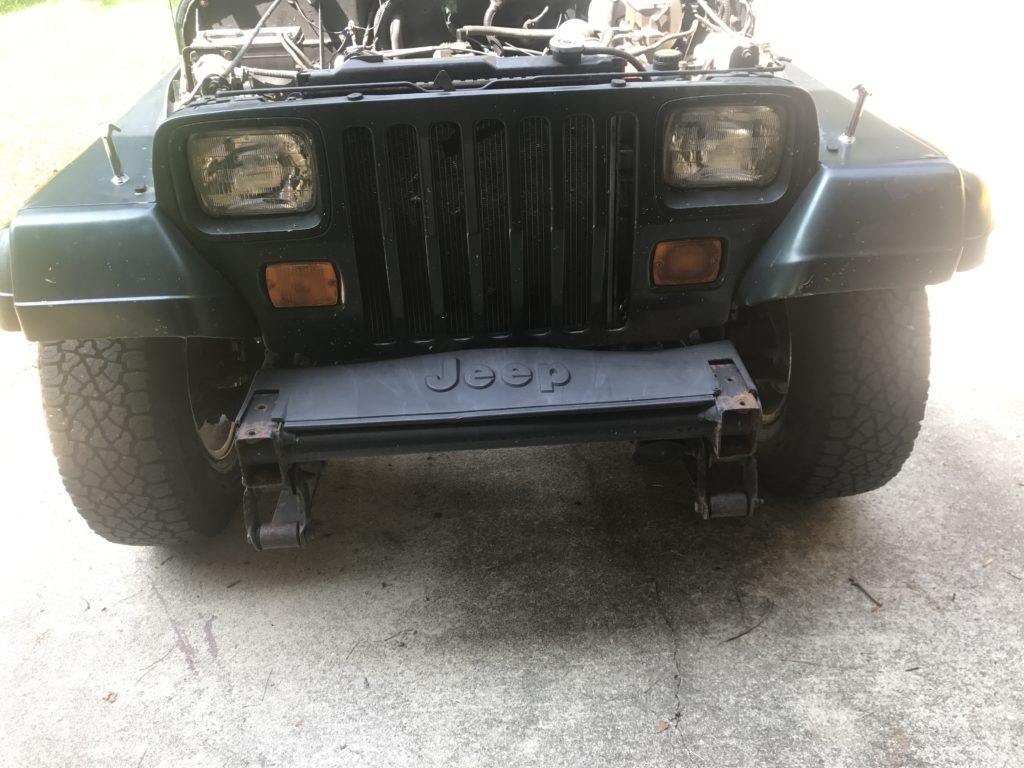 Oh yeah, earlier in the morning my lovely wife had texted a few of her friends looking for someone who had a similar model Jeep that I could look under the hood to figure out where all the parts that were just zip-tied onto mine actually should go.  She located one of her friends and he had come over just before lunch and I got some photos and we talked for a bit.  By the end of the day though that same friend brought me several new-to-me parts that I needed.  It was simply an awesome experience.  He brought me all of the following:
Tubular front bumper with LED lights
Tubular rear bumper with hitch
Tubular side steps
Both front fenders with much less damage than the ones I had
And the cost on those parts (and the pictures I got) was worth every penny.  Thank you Clint!!