Wow!  Where has the time gone?  The days have been flying by and while I'm making progress there never seems to be enough time to get enough work completed to really satisfy my drive.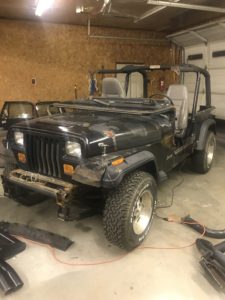 As I mentioned in my previous post my wife has been helping me source parts for the Jeep.  I have a fairly lengthy list of items I want and earlier today I located some big pieces that have me pretty excited.  I found both a transmission and a tub that look promising and at really reasonable prices.  The best part is that they are from a different salvage yard that specializes in Jeeps and these guys take trades.  After some negotiating I was able to get the guy to agree to take the front and rear bumpers that I got last week from Clint and am no longer planning to use.  He also is interested in the family-style rollbar that is currently installed in my Jeep.  As you may recall, I picked up a Sport rollbar last week so being able to trade mine for some different parts makes good sense to me.
So there are always downsides and this time is no different.  There are two downsides specifically.  The first is that the salvage yard is a little more than 3 hours away.  I generally don't mind driving and I already checked with my brother and have his trailer to go get the parts so hopefully no big issues on the travel.  The second issue is that I need to uninstall that family-style rollbar so I can take it with me this Saturday (just 2 days away).
Tonight after work I enlisted both my wife and son to assist with the removal process.  To remove the rollbar I have to also remove all the seatbelts and the seatbelts (T50) use a different size torx than the rollbar (T55).  I didn't have a torx bit that fit the rollbar so my wife went off to the nearest auto store to get one while my son and I worked to remove the seatbelts.  By the time she got back we had all but one of the bolts removed.  The last bolt was rusted in pretty badly so I had resigned to just using the grinder to get it out.  A few moments with the grinder and the seatbelts were out.
Then we moved on to the rollbar.  That was quite a different story than the seatbelts.  All of the bolts were either completely rusted or so tight that it literally twisted the torx bit (if you look at it straight on you can see how head on it warped under the pressure I put on it from my flex handle).  Who knew I had so much strength!
Well, that led me on to option #2 since the rollbar had to come off tonight as tomorrow I had to make a 2 hour drive for the trailer and then Saturday I had to leave really early to get to the salvage yard before they closed.  Option #2 as you might imagine was basically pulling out all the stops.  I grabbed my big drill, and my big metal drill bit, and I went to drilling the heads out of every bolt on the rollbar.  Within just a short while every single bolt was broken off and the rollbar was free.  We wasted a bit of time trying to remove the front seats dealing with those rusted bolts and later realized I could fit the drill under the seat so it was left in place while I removed the rollbar.
Saturday I head to the salvage yard for a new-to-me tub and transmission.  Woohoo!